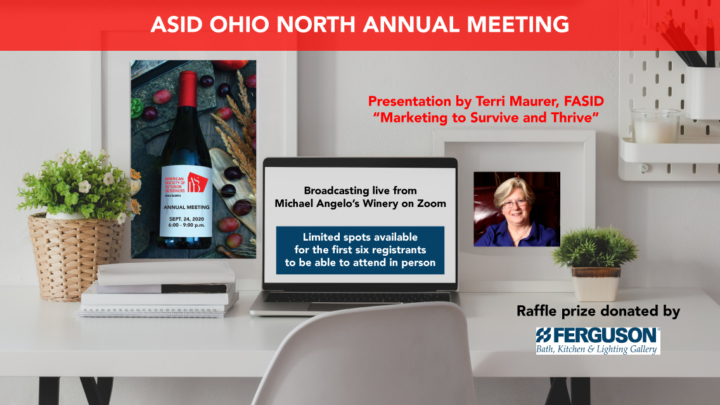 ASID Ohio North Annual Meeting
Description
ASID Ohio North recaps 2020, looks ahead to 2021 and welcomes new our new board members.
Join ASID Ohio North for the 2019-2020 Annual Meeting
Door prizes provided by Ferguson!
In an effort to follow social distancing guidelines, our Annual Meeting will be kept safe and small, allowing an opportunity for six members to join us in person at Michael Angelo's Winery at 6:00 p.m.
The first 6 members to sign up must do so by September 15.
Tickets go on sale Monday, September 7 at 9:00 a.m.
For those joining us virtually, we will be broadcasting live on Zoom at 7:00 p.m., so grab a comfy chair and your favorite beverage to hear chapter member Terri Maurer, FASID present "Marketing to Survive and Thrive," a topic which speaks to our current times more than ever.
We will also recap our year (as much as we were able to accomplish!!) and look ahead to the future of ASID Ohio North, while thanking our board members, and last but not least, the induction of our new Board of Directors for 2020-21.
We will wrap up the evening with our door prize drawing!
All member participants will be entered for a chance to win from our Industry Partner raffle prizes!
Upon registration you will be emailed the link for ZOOM.
Questions - please email administrator@ohn.asid.org